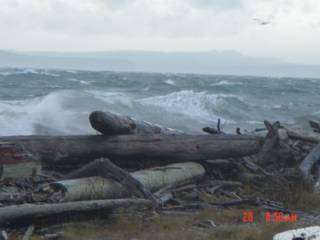 This is what our beaches look like during a storm.
I took off the canopy from my gazebo in my yard anticipating the Fall storms coming.
On Columbus Day October 12, 1962 we had the remnants of a hurricane blow through here knocking out power and taking roofs off houses. It was a devestating storm.
We have some doozies in October and November. Usually a good Thanksgiving Day storm will blow through knocking out the power and make people scramble around looking for ways to finish cooking their turkeys!
We had 18 inches of snow on Thanksgiving around 1983 or 1984. I'm actually looking forward to the storms. I love them as long as we are all safe in our houses. I'm sure the people in Florida or in the Southeast will think I'm crazy about now, but I can't help it.
I was in Connecticut from 1976-1979 and lived through the big storm in the Summer that knocked out the power in New York City. It was a powerful storm and you could smell the electricity in the air. Then the Blizzard of 1978 came through and I was all excited about that!! A real Blizzard!! WOW!!! We only get flurries here and then it melts. The wind is what we get. Well it is supposed to be nice for a while so I guess I will just go through my supplies and be sure I have everything ready just in case we get the big storm!!
It would be a good idea if you all did that!! Get a disaster kit ready and handy!
Thought for the day:
Not one shred of evidence supports the notion that life is serious.