Don't Quit!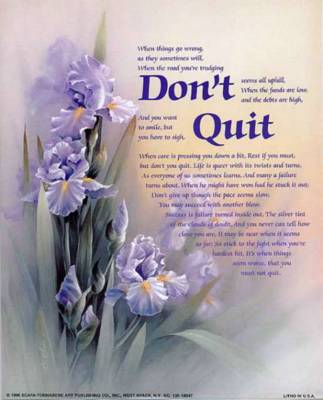 Darn, I was hoping this would be big enough to read. Now I have to hunt it down and copy the words.
Don't Quit
When things go wrong, as they sometimes will,
When the road you're trudging seems all uphill,
When the funds are low and the debts are high,
And you want to smile, but you have to sigh,
When care is pressing you down a bit -- Rest if you must, but don't you quit!
Life is queer with its twists and turns, As everyone of us sometimes learns,
And many a person turns about When they might have won had they stuck it out,
Don't give up though the pace seems slow --
You may succeed with another blow, Often the struggler has given up,
When he might have captured the victors cup;
And he learned too late when the night came down, How close he was to the golden crown!
Success is failure turned inside out!
So stick to the fight when you are hardest hit!
It's when things seem worst that you mustn't quit!
The reason I picked this beautiful print and poem is because so many people in blog land are going through a really rough time right now, and I feel it is appropriate.
I just read where our blogging friend
Ellen
has asked for prayers as she just discovered her cancer that has been in remission for three years has returned and she will be in for the fight of her life!
I pray for God to give her strength to go through the treatments and for her to keep her positive attitude!
I am praying that God will find in His will to cure her of this dreaded disease!
I am sending her one of my Guardian Angels to be by her side through all this! (I have a few that have worked overtime for me, and think they will give her some support and comfort).
I will keep her in my prayers and ask any of you to do the same. I truly believe prayers help!
God Bless you Ellen!